BURN FAT & CONTROL YOUR CRAVINGS!
SATIATED is our signature combinational fat burner. SATIATED controls tough cravings, decreases stress and boosts your metabolism all in one, making this one powerful fat burner! Using all natural ingredients and herbs, SATIATED contains over 700mg per serving including: hoodia gordonii, ALA, glucomannan, ginseng, biotin and more!
SATIATED is also entirely caffeine free and contains zero stimulants! Stop wishing for weight loss – do something about it!
SATIATED is loaded with over 750mg of proven fat regulating ingredients per serving including: Hoodia Gordonii, glucomannan, alpha lipoic acid, ginseng, Chinese panax, gynema slyvestre, garlic powder, astragulus extract, tumeric extract, biotin, banaba leaf, and echinacea angus. Each ingredient is all natural, blended to perfection for real results.


You cannot afford to keep up with your current stressful lifestyle without a little help. You cannot continue overloading yourself with work, eat to convenience, and expect to look as you did in high school. You need a powerful product backed by science to subdue even the most stressful of lifestyles and insatiable of appetites. You need SATIATED to start experiencing weight loss like never before.
Supplementing with SATIATED you will experience: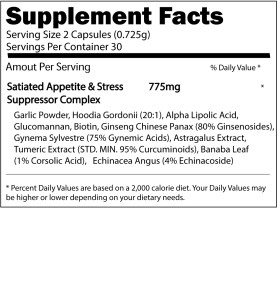 » Increased Metabolism
» Weight Loss
» Decreased Appetite
» Raised Energy, Cognitive Ability, and Focus
» Decreased Cortisol
» Reduced Cravings
» Improved Mood
Directions For Use:
Suggested Use: For best results, take 1 capsule in the morning and a second capsule 3-4 hours later, both on an empty stomach. This product contains no caffeine or stimulants.
Bonus Workout Programs & Supplement Protocols!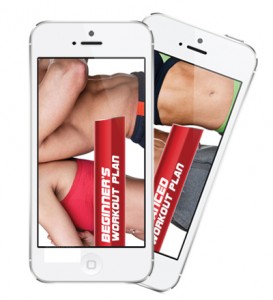 Ultimately supplements are designed to improve your physique. Why not improve your physique even further through the use of our recommended workout programs?
Included with your order today you will find FREE Beginner's and Advanced Workout Plans to follow while taking our supplements! You will also receive a protocol for recommended use of all our supplements. We know you will find great success with our powerful products, workout plans, and supplement guidance wrapped all in one!
Take Fat Burning to the Next Level
Take your fat loss into overdrive with our all NEW Advanced Fat Burning Stack! Now featuring Torrid FX, Satiated, and Torrid PM turning you into a 24/7 fat burning machine. If your serious about fat loss you must try our quad-technology Advanced Fat Burning Stack – now on sale!